With 2.2 out and a few bug fixes released, some great feedback was provided for the new Twitter interface. Now, here's a quick update that brings some enhancements (and brings back) a couple features for Twitter.
First, the brand new Dashboard widget!
This widget shows your upcoming scheduled Tweets right from your Dashboard. The 'Schedule' view is still available, but this is a more concise way to stay on top of what's scheduled to go out. If you hover the header of the widget, you have the ability to 'configure' it and state how many Tweets you want to show. Clicking on a Tweet will take you to the post that Tweet is associated with: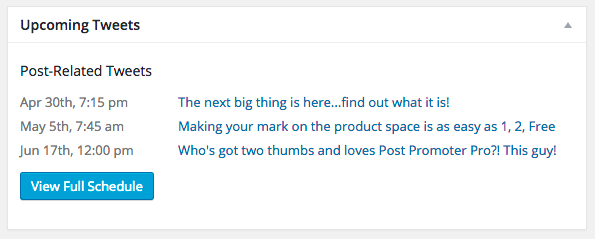 Twitter Interface Enhancements
As 2.2 focused on the Twitter Experience, 2.2.3 is a follow up with a few more improvements that didn't quite make it into 2.2. It focused on 2 major things:
Bringing back the Twitter Character count (Sorry!)
Warning users when you are about to schedule an item that is with 30 minutes of an existing scheduled Tweet
Along with the re-introduction of the character count, I've also improved the experience of writing your Tweet text by exposing more of the input field when your focus is on writing the text. This should help with those longer statuses.
The next major improvement is, when adding a new Tweet to the list, a notice when you've selected a date and time that is within 30 minutes of another Tweet that's already scheduled. It will highlight the row in red, and give a small notice at the bottom of the Metabox. You can still save it, this should just help you be aware of your schedule.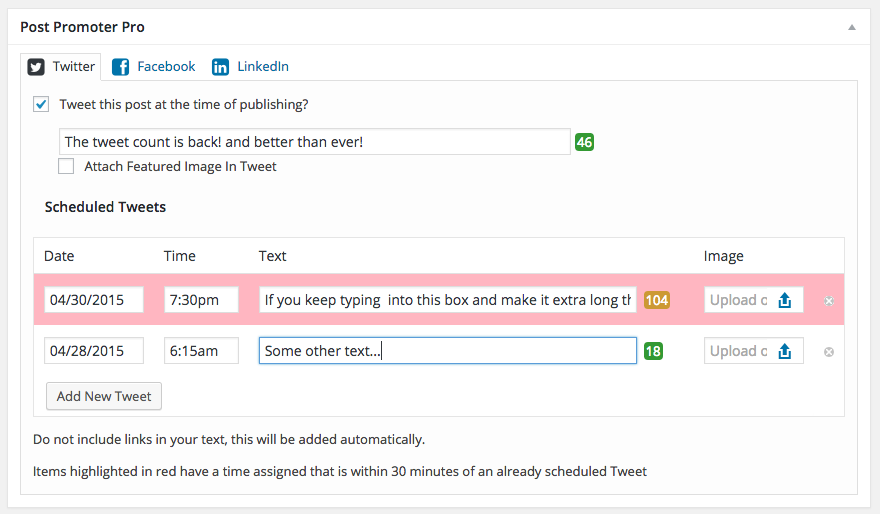 Changelog

= 2.2.3 =
* NEW: Dashboard widget to show our next X scheduled Tweets
* NEW: Added Unit tests
* NEW: Added warning when scheduling a Tweet that is within 30 minutes of an existing Tweet
* TWEAK: Re-Added and Improved the Tweet Character Counter